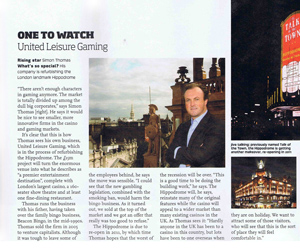 Rising star Simon Thomas. What's so special?
His company is refurbishing the London landmark Hippodrome.
"There aren't enough characters in gaming anymore. The market is totally divided up among the dull big corporates," says Simon Thomas. He says it would be nice to see smaller, more innovative firms in the casino and gaming markets.
It's clear that this is how Thomas sees his own business, United Leisure Gaming, which is in the process of refurbishing the Hippodrome. The £15m project will turn the enormous venue into what he describes as "a premier entertainment destination", complete with London's largest casino, a 160-seater show theatre and at least one fine-dining restaurant.
Thomas runs the business with his father, having taken over the family bingo business, Beacon Bingo, in the mid-1990s. Thomas sold the firm in 2005 to venture capitalists. Although it was tough to leave some of the employees behind, he says the move was sensible. "I could see that the new gambling legislation, combined with the smoking ban, would harm the bingo business. As it turned out, we sold at the top of the market and we got an offer that really was too good to refuse."
The Hippodrome is due to re-open in 2011, by which time Thomas hopes that the worst of the recession will be over. "This is a good time to be doing the building work," he says. The Hippodrome will, he says, reinstate many of the original features while the casino will appeal to a wider market than many existing casinos in the UK. As Thomas sees it: "Hardly anyone in the UK has been to a casino in this country, but lots have been to one overseas when they are on holiday. We want to attract some of those visitors, who will see that this is the sort of place they will feel comfortable in. "