Extract from The Hippodrome's Build It Magazine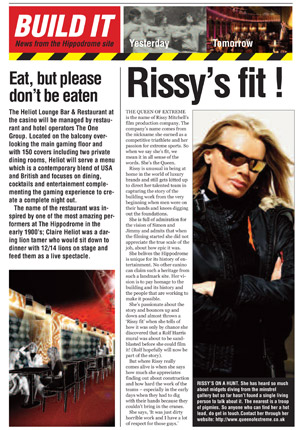 The queen of extreme is the name of Rissy Mitchell's film production company. the company's name comes from the nickname she earned as a competitive triathlete and her passion for extreme sports. So when we say she's fit, we mean it in all senses of the words. She's the queen.
Rissy is unusual in being at home in the world of luxury brands and still gets kitted up to direct her talented team in capturing the story of the building work from the very beginning when men were on their hands and knees digging out the foundations.
She is full of admiration for the vision of Simon and Jimmy and admits that when the filming started she did not appreciate the true scale of the job, about how epic it was.
She believes the Hippodrome is unique for its history of entertainment. No other casino can claim such heritage from such a landmark site. Her vision is to pay homage to the building and its history and the people that are working to make it possible.
She's passionate about the story and bounces up and down and almost throws a 'Rissy fit' when she tells of how it was only by chance she discovered that a Rolf Harris mural was about to be sand-blasted before she could film it! (Rolf hopefully will now be part of the story).
But where Rissy really comes alive is when she says how much she appreciates finding out about construction and how hard the work of the teams – especially in the early days when they had to dig with their hands because they couldn't bring in the cranes.
She says, 'It was just dirty horrible work and I have a lot of respect for those guys.'