In the world of TV, Food and Gardening formats are the biggest earners in sales, viewing figures and global distribution. They outsell any other format and are popular across many cultures. We all have to eat and as humans it is the one component that links us together.
Videos are the tool that everyone is waking up to and with the growth market of food channels and food videos on YouTube, it is the perfect platform for engaging viewers and driving traffic to your restaurant. One minute of video is worth more than 1.8 million words. But more importantly food is a visual experience and, done right, video can really engage, inform and get the taste buds going.
As much as everyone loves a good meal, people are inclined to watch food videos on YouTube for four main reasons: entertainment, exploration, expertise or ease. YouTube food videos are the ideal platform to inspire and showcase your creations. They can offer chefs as teachers and informative guides when you most need them.
A good food Video is easy to make with the right ingredients if you'll pardon the pun! A good camera is essential along with a creative vision and good editing. Planning out the menus with the chef is important so you can capture the creativity and presentation. Food is the key component in representing your restaurant and what you represent in all things culinary, so it is important to get the dishes that look most pleasing and which define who you are as a brand.
At Queen of Extreme we view the chef as the artist and every dish needs to explode in its attention to detail and its presentation in order to be effective in its video marketing campaign. We don't need a food stylist or colourist; a good camera and the technical tools we have available for editing make the video more cost effective.
Many restaurants are finding success with YouTube food audiences by aligning their media strategies with the existing food-related content on YouTube. After all, 78% of referrals from YouTube food videos to restaurants' sites are from first-time customers. Restaurants have become dynamic in the array of cuisine and style on offer. London has some of the most diverse adventures to expand the culinary pleasures on offer. Video is one of the most powerful tools to tell your story and give a hint of what the customer can expect when coming to your restaurant.
We recently made a new food video with Chef Director Barry Vera. Barry has a mammoth job looking after 140 staff and 4 restaurants, each restaurant representing something different to the consumer. Three of these restaurants are under one roof at the ME Hotel London, which opened it doors in 2013: STK represents the thirst for good steak and is busy every night, Asellina has some of the finest Italian dishes with handmade pasta daily and some mouthwatering presentations and Radio Bar offers an array of Spanish tapas to choose from accompanied by some of the best views in London. The Hippodrome Casino, one of the top 50 London restaurants on TripAdvisor, has menus Barry designed that outclass those of other casinos around the world.
Barry has worked at some of the top restaurants and Hotels around the world and trained with Conran restaurants, Marco Pierre White and other five star properties. He brings his culinary and creative vision from his travels with a heady mix of adventure. He was the main presenter on FEAST, a successful show on Discovery, covering the globe and entertaining viewers with diverse culinary experiences. Barry has written two cookbooks and is regularly seen cooking with celebrities. He often gets auctioned along with Paul Young for charity events to cook for people in their own homes – a great passion of his because of the fusion between food and music.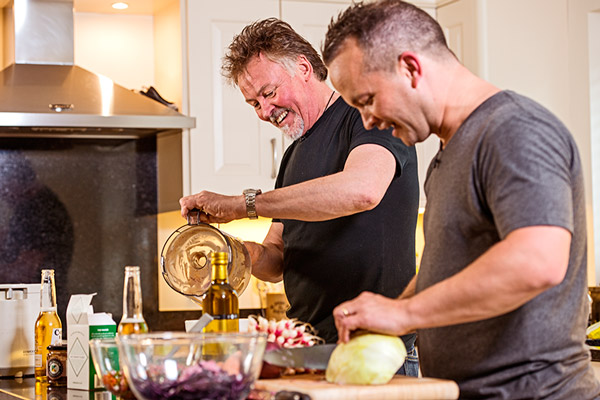 Barry makes our work easy as he is a real creative and perfectionist, with his ability to make any dish exciting from preparation to final presentation. And his team of chefs are a dream to work with and convey the same passion as Barry and prove that food is about art as well as taste.