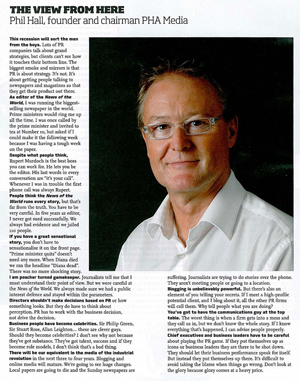 Phil Hall: "This recession will sort the men from the boys. Lots of PR companies talk about grand strategies, but clients can't see how it touches their bottom line. The biggest smoke and mirrors is that PR is about strategy. It's not. It's about getting people talking to newspapers and magazines so that they get their product out there.
As editor of the News of the World, I was running the biggest-selling newspaper in the world. Prime ministers would ring me up all the time. I was once called by the prime minister and invited to tea at Number 10, but asked if I could make it the following week because I was having a tough week on the paper.
Despite what people think, Rupert Murdoch is the best boss you can work for. He lets you be the editor. His last words in every conversation are "it's your call". Whenever I was in trouble the first phone call was always Rupert.
People think the News of the World runs every story, but that's far from the truth. You have to be very careful. In five years as editor, I never got sued successfully. We always had evidence and we jailed 110 people.
If you have a great sensational story, you don't have to sensationalise it on the front page. "Prime minister quits" doesn't need any more. When Diana died we ran the headline "Diana dead". There was no more shocking story.
I am poacher turned gamekeeper. Journalists tell me that I must understand their point of view. But we were careful at the News of the World. We always made sure we had a public interest defence and stayed within the parameters.
Directors shouldn't make decisions based on PR or how something looks. But they do have to think about perception. PR has to work with the business decision, not drive the decision.
Business people have become celebrities. Sir Philip Green, Sir Stuart Rose, Allan Leighton… these are clever guys. Should they become celebrities? I don't see why not because they've got substance. They've got talent, success and if they become role models, I don't think that's a bad thing.
There will be our equivalent in the media of the industrial revolution in the next three to four years. Blogging and online media will mature. We're going to see huge changes. Local papers are going to die and the Sunday newspapers are suffering.
Journalists are trying to do stories over the phone. They aren't meeting people or going to a location.
Blogging is unbelievably powerful. But there's also an element of you telling your secrets. If I meet a high-profile potential client, and I blog about it, all the other PR firms will call them. Why tell people what you are doing?
You've got to have the communications guy at the top table. The worst thing is when a firm gets into a mess and they call us in, but we don't know the whole story. If I know everything that's happened, I can advise people properly.
Chief executives and business leaders have to be careful about playing the PR game. If they put themselves up as icons or business leaders they are there to be shot down. They should let their business performance speak for itself. But instead they put themselves up there. It's difficult to avoid taking the blame when things go wrong. Don't look at the glory because glory comes at a heavy price."